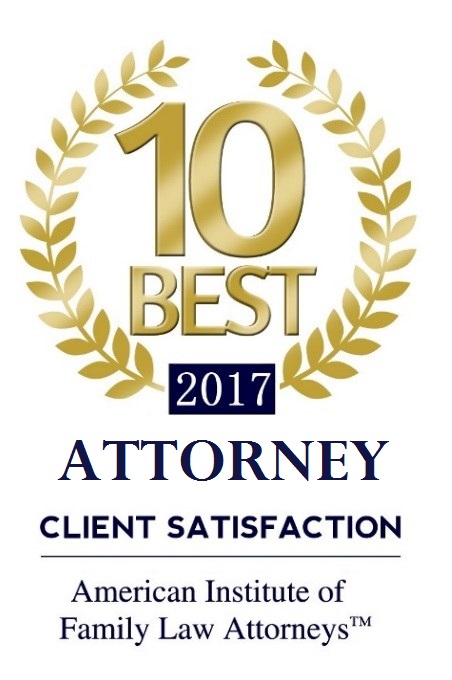 PRESS RELEASE
Robert Winful II, Esq. Has Been Nominated and Accepted as 2017 AIOFLA'S 10 Best in Texas For Client Satisfaction
The American Institute of Family Law Attorneys has recognized the exceptional performance of Texas's Family Law Attorney Robert Winful II, Esq. as 2017 10 Best Family Law Attorney for Client Satisfaction.
The American Institute of Family Law Attorneys is a third-party attorney rating organization that publishes an annual list of the Top 10 Family Law Attorneys in each state. Attorneys who are selected to the "10 Best" list must pass AIOFLA's rigorous selection process, which is based on client and/or peer nominations, thorough research, and AIOFLA's independent evaluation. AIOFLA's annual list was created to be used as a resource for clients during the attorney selection process.
One of the most significant aspects of the selection process involves attorneys' relationships and reputation among his or her clients. As clients should be an attorney's top priority, AIOFLA places the utmost emphasis on selecting lawyers who have achieved significant success in the field of Family Law without sacrificing the service and support they provide. Selection criteria therefore focus on attorneys who demonstrate the highest standards of Client Satisfaction.
We congratulate Robert Winful II, Esq. on this achievement and we are honored to have him as a 2017 AIOFLA Member.
You can contact Robert Winful II, Esq. directly at 214-501-5449 or www.thewinfulfirm.com.
The 2016 presidential election is, at long last, behind us. While pundits will interpret the significance of the election results for months to come, already clear is the broad public support for sensible and humane immigration policies. In fact, despite the rhetoric on the campaign trail, a range of post-election data show that the majority of Trump voters do not support proposals that would deport massive numbers or immigrants and they are more likely to favor productive immigration solutions.
However, the President-Elect will have the ability to work towards shaping our nation's immigration policy, through the regulatory process, executive actions, policy decisions, and by working with Congress. There are many different directions Trump could go. While his conservative party will have majority power over the executive and legislative branches, there are still limits on what they can do. We have a Constitution, laws, and a court system that set parameters for government actions.
Add to that the fact that the United States has a strong and vibrant immigrant rights community that will not stand by and allow any part of the government to run roughshod over our nation's values and commitments to fairness and due process.
At this point, it is hard to predict how much of Trump's campaign rhetoric will actually turn into policy proposals. For many, the most immediate question after Trump's victory was what will happen to the Deferred Action for Childhood Arrivals (DACA) initiative?
If Trump ends DACA like he has threatened, he will be revoking the work permits of more than 700,000 young immigrants with long childhood ties to the United States. He will return them to limbo, where they would lose their ability to work and participate in the formal economy, attend college in some cases, and hold driver's licenses. By doing this, he would also be disrupting communities, workplaces, and families across the country. This seems counter-productive and cruel.
However, it's important to remember that Trump does not take office until January 20. Until then, President Obama is still Commander-in-Chief. This provides the immigrant rights community with two months of planning for a range of outcomes, which has already begun and will continue.
Ultimately the 2016 presidential election was a bruising battle, and the nation must heal. However, our democracy is intact, and there are limitations and checks and balances on power. There are also mechanisms in place for us all to participate, push back, challenge and disagree with unjust and illegal actions. No doubt there will be battles ahead but progress on important social issues has never been quick or easy and immigration is no exception.
http://immigrationimpact.com/2016/11/09/donald-trump-immigrant-rights/

U.S. Citizenship and Immigration Services (USCIS) released new policy guidance clarifying how it determines whether an individual's family will experience "extreme hardship" if the individual is denied admission to the United States. This guidance is effective December 5, 2016 and provides welcome clarity to a complicated issue.
Certain non-citizens are considered inadmissible meaning they would generally be denied admission to the United States, the ability to adjust their immigration status, and other immigration benefits. For example, immigrants who accumulate certain periods of unlawful presence in the United States are subject to three- or ten-year bars of admission if they ever try to re-enter the country lawfully. Other individuals who have committed certain crimes are also considered inadmissible. If the individual has family members living in the U.S., this separation can have negative consequences for the entire family.
However, USCIS has discretion to admit certain inadmissible individuals into the United States. A waiver may be available if the noncitizen can prove that failing to admit them into the country would result in "extreme hardship" to the applicant's citizen or permanent resident spouse or parent. With few exceptions, hardship to the immigrant themselves, or to their children, is not a factor.
Unfortunately, "extreme hardship" is not defined in the immigration statute, regulations, or case law. Over the years, the government has failed to apply the standard consistently. The new USCIS policy guidance is intended to clarify how the agency makes determinations about extreme hardship.
The guidance clarifies the steps that must be taken to adjudicate an extreme hardship waiver and provides a list of factors that USCIS may consider when making a determination. The applicant has the burden of proof to demonstrate by "a preponderance of the evidence" that he or she satisfies all requirements for the waiver. This means proving the necessary family relationships and detailing the exact nature of the hardship. The guidance further clarifies that to be considered "extreme," the hardship must exceed that which is usual or expected and must go beyond that typically associated with deportation.
USCIS and the waiver applicant must consider two different scenarios:
Extreme hardship may occur if the family member remains in the U.S. while the applicant remains outside of the U.S. For example, if the applicant is the primary caretaker of an ill family member, separation may result in extreme hardship.
Extreme hardship may occur if the family member leaves the U.S. to reside with the applicant elsewhere. For example, if both were to reside in the home country, the family member may be subject to ostracism, discrimination, or persecution or may not have access to necessary medical treatment.
The guidance includes a lengthy list of social, cultural, economic, health, and other conditions that may be considered relevant. USCIS is supposed to examine the totality of the evidence to make a hardship determination. For example, hardship to multiple qualifying family members might rise to the level of extreme hardship even if no single qualifying relative alone would suffer hardship enough to be determined "extreme."
This new guidance provides the clarity and consistency on extreme hardship that has been missing. Formal regulations on extreme hardship would allow for even more certainty and stability because it would make the new rules binding on all adjudicators. But this interim step is a welcome development.
http://immigrationimpact.com/2016/10/24/uscis-clarifies-guidance-extreme-hardship/
/